God declares overeating to be a sin: 'For the heavy drinker and the glutton will come to poverty' (Proverbs 23:21).
So begins the second chapter of biblical counselor Shannon Kay McCoy's very helpful mini-book HELP! I'm a Slave to Food.
Then McCoy defines sin. These definitions include–
whatever is not from faith is sin (Romans 14:23).
therefore, to one who knows the right thing to do and does not do it, to him it is sin (James 4:17).
all unrighteousness is sin (1 John 5:17).
sin is lawlessness (1 John 3:4).
These descriptions view sin as the act of the will. Sin is choosing to act in opposition to God's Word.
Sin of Overeating?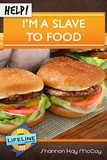 McCoy continues: "Perhaps you don't believe that overeating is a sin. Many of us have been brainwashed by magazine articles, television talk shows, and reality shows that tell us that food is the problem: you are simply eating the wrong things in the wrong way."